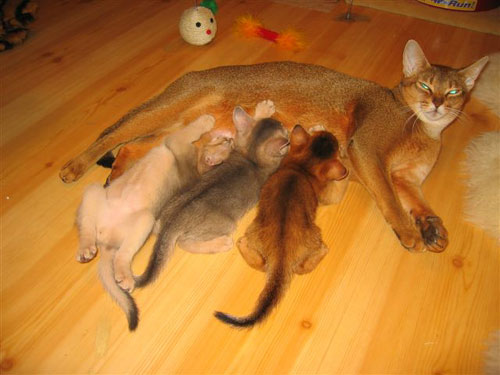 On this page we'll put some funny and nice pictures of kittens from earlier litters we've had. We'll try to put inn one of the last pictures of a kitten taken while they still lived here and a later picture of same cat turned 1 year. So you can see the development of the cat. We'll also try to make this page a "In memory of" page over those cats that are no longer with us.





Two good friends, (N)Mayaspride Hannah and abymix Nala (december 2010)



Cats that are no longer with us.


(N)Mayas Pride Callista 26.07.2006-13.03.2020

It was a sad email to get, that our little sweet "blueberry" Callista passed away on March 13 after a time of illness. Callista was from one of our earliest litters. Now she is with her mum Cleo, sister Chakira and brother Caspian. She is deeply missed by her owners.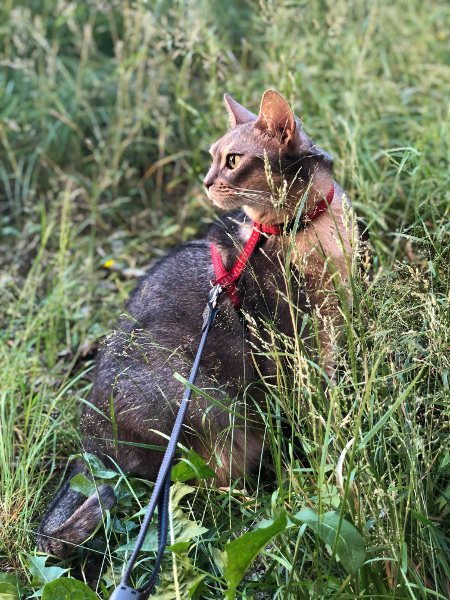 SC (N)Mayas Pride Nefertiti (Neffi) 24.01.2007-27.02.2020

It was with a heavy heart that we had to say "good night" to our fine, kind, good Neffi that Thursday evening. The lymphoma had gone too far and it was "the time". Neffi became our very first breeding Aby queen from own breeding. She was a very special little Aby girl who charmed everyone she met, either at exhibitions or here at home. She was the origin of several fine litters and several of her descendants we have chosen to keep here at home. Neffi will always have her place in our memories and hearts.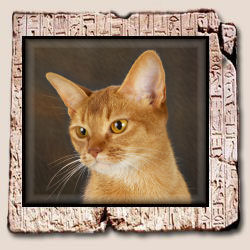 NW Lazy DSM (Domestic cat). Born 07.12.2001 - died 14.04.2018

"Just a domestic cat" but what a cat! <3
Our sweet and gentle NW Lazy DSM (07.12.2001-14.04.2018) was allowed to fall asleep at AniCura Jeløy Veterinary clinic. Lazy has recently struggled with low metabolism and now last weeks with pancreatic inflammation. But now this afternoon she told us that "I do not want anymore". Then we just had to realize this, and do as she asked us to. And take the heavy last trip to the veterinary with her. It did hurt so much, but now she's in peace and have no pain anymore <3
Lazy started her exhibition career as "just a company lady" for our dear Cleo (Abyssinian cat). But a judge caught sight of her in the show cage and said we had to start showing her as well. Lazy's first show was at Fossekatta 13.09.2003 and her last was Lirak 18.03.2018. I dare to say that Lazy charmed judges, other exhibitors and visitors. Lazy loved exhibits <3 She showed us that even domestic cats can be at cat shows, and enjoying it <3 Lazy was special to us and she will be deeply missed by both us and the rest of her cat family here at home. She is not going to be our last domestic cat, but the next one must be very special should it be able to compete with her. <3 Here are her show results: Number of exhibits: 142, 1 Box, 82 NOM and 42 BIS. Sleep well and be happy in cat heaven <3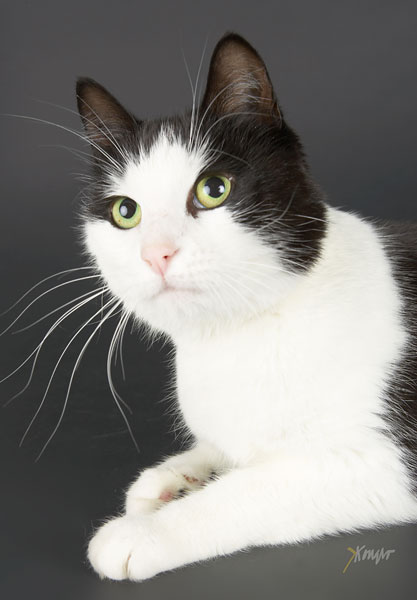 (N) Mayas Pride Lucas (Sorrel) Born 28.08.2013 - disappeared 23.07.2017

We were told that Lucas had disappeared from his home near Örebro in Sweden. He had for a short time been allowed to go freely outside. And after a short while as a inn/out cat, he disappeared. Tonje (the girl that owned him), searched and advertised him missing everywhere. But no one has reported any observations or had any information about him so far. He is still missing per. July 2018. I know he is deeply missed. It hurts not to know if he's alive or is dead :-(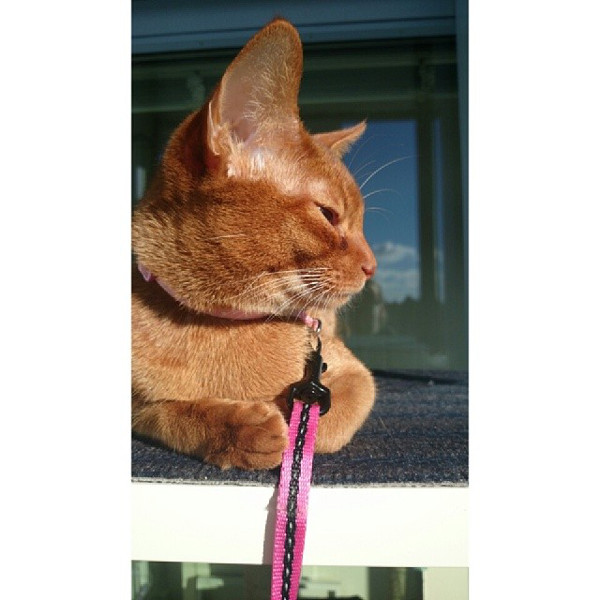 (N) Mayas Pride Pharao Ramses (Wild Abyssinian) Born 04.04.2004 - died 19.07.2017

Our sweet and special Ramses is no more. He was our first litter (1 kitten). He had a tough start in life when his mother rejected him after a few days. Therefore, we had to do the job she should have done. A "steep learning curve" job, as we had never had a kitten that had to be bottle feed. But we managed the task, and Ramses became one of the biggest Abyssian cats I've ever seen. He was very special, a real daddy's boy, and one who had the respect of the other cats. Ramses was never sick. But he got an injury (by neighbor's cat) who attacked him and he did not recover himself in the weeks after that. When we didn't think he showed the progress we had expected and suspected something was wrong, and brought him to the vet. There he was examined from A to Z and the vet said Ramses was really ill. A lot of blood samples were taken and the samples showed that Ramses had massive kidney failure. We chose to allow Ramses to fall asleep in our arms at the vet. klinick. He is someone we really miss and often talks of. Rest in peace daddy's rascal <3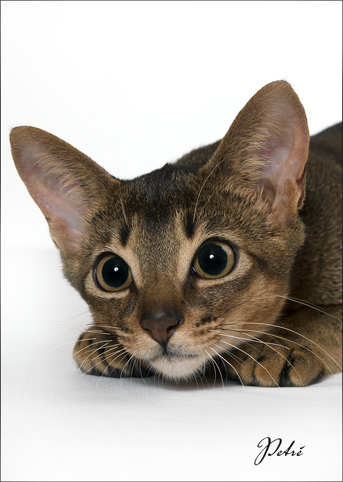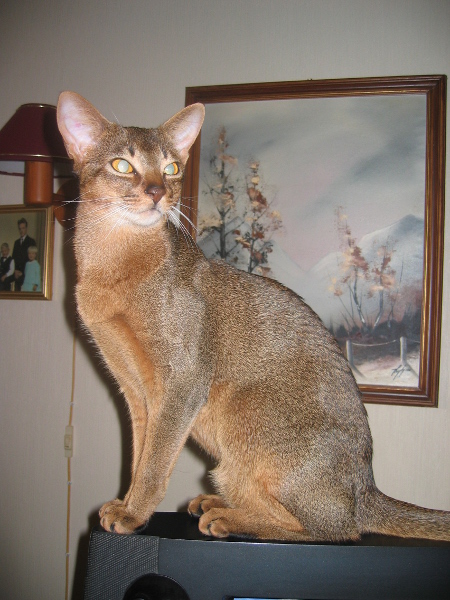 (N) Mayas Pride Karma (Colored) Born 28.06.2012 - died 2017

It was sad to be told that little Karma is no more. She had managed to sneak out and was unfortunately hit by car. Karma was loved by her human family and is deeply missed <3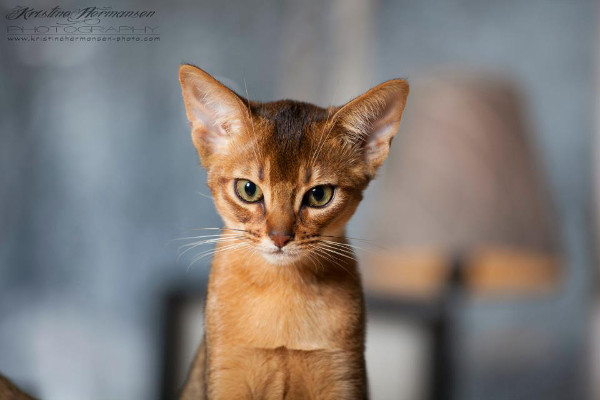 (N)Mayas Pride Hedda (Ruddy female). Born 25.07.2010 – died 01.10.2014

Saturday the 4. October we did get a really sad message. Our dearest Hedda had passed away. Hedda was from our litter H. It came just out of the blue and it went so quick. That something as small as a grass seed or something could be so fatale? Heddalita as I called her, was one of 4 sisters in what I will say, was one of the most crazy and funniest litter we ever have had till then. Those 4 sisters was full of life and fun for all the weeks we had them :-) Heddalita had a wonderful life together with her soon Berserk and the dogs. I thank the owner Siren for being such a great "mother" for our Hedda :-)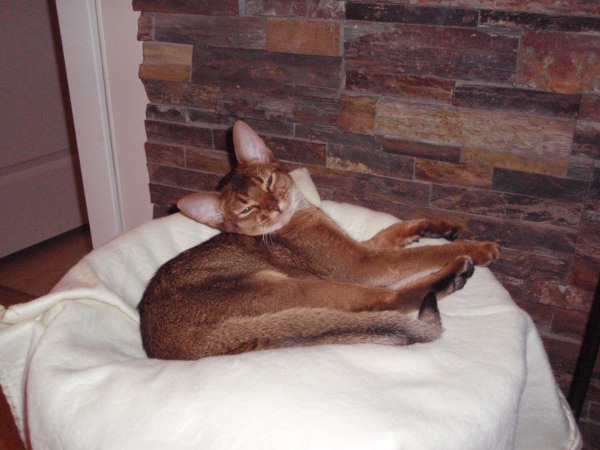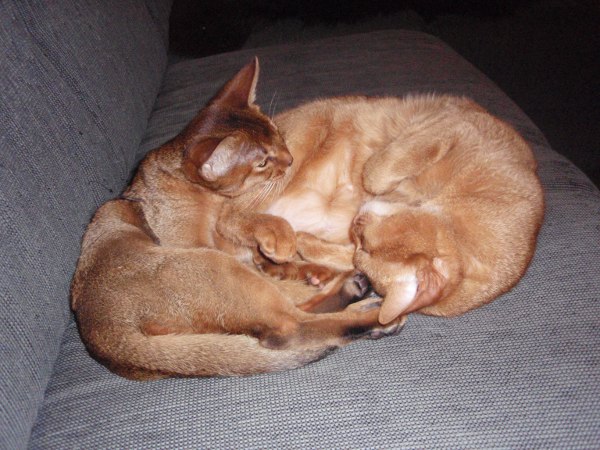 IC Ingave's Zita (til daglig Cleo, viltfarget hunn). Født 02.08.2002 – død 25.09.2014

I have never felt so much pain in my whole life :-( Wednesday the 25. of September we had to let our little/big Cleo say "good night". It was not an easy decision to make, but we knew that "it soon was her time". Cleo did have a nice summer and autumn. She did handle her pains and other things with grace her entire life as the "Diva" she was. Cleo had a great personality that always will be remembered and loved. She was the start of something that really was not meant to be. That I became a breeder :-) I was only going to have a pet cat, but Cleo did want it different :-) Cleo was a beautiful Abyssinian lady that did really well at cat shows. She did have a lot to say on the shows, but it was only in her mouth :-) She became mother to a few litters before we did say stop. Cleo did put her paw prints in many hearts. And a special paw print of her will forever be with me were ever I go :-) Sleep tight and good little darling. "Mum and dad" will always keep you in a special place in our hearts :-)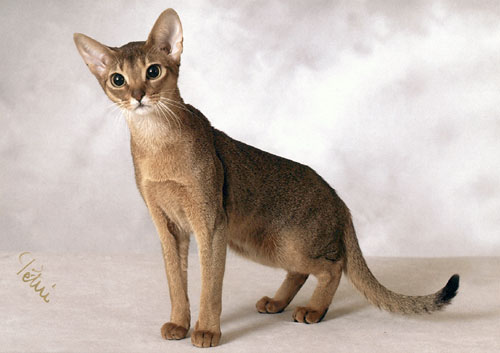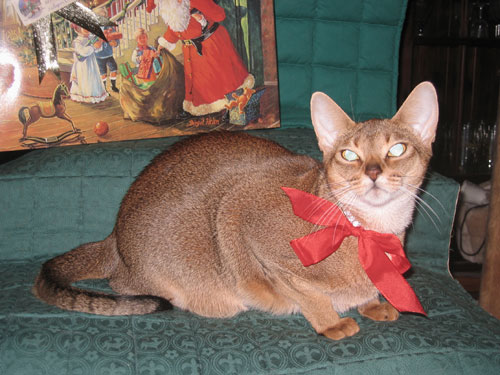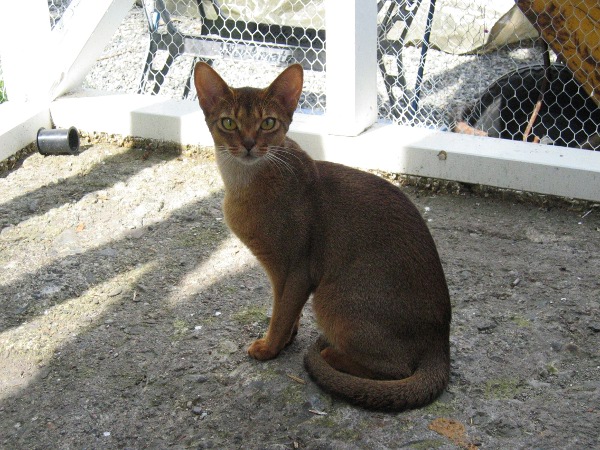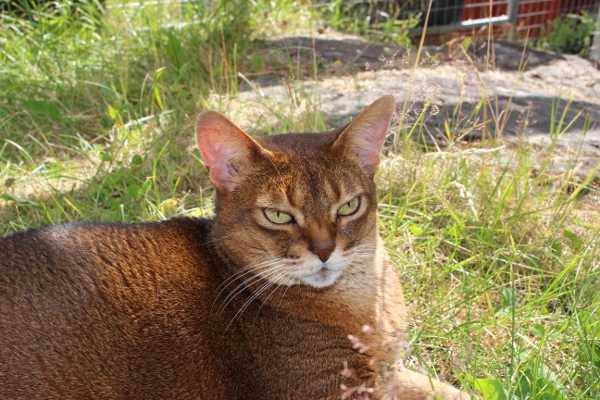 (N) Mayas Pride Kasimir (Ruddy male), Born 28.06.2012 – died 07.05.2013

Tuesday the 7. may, we got the saddest news we could get. Our little prince Kasimir (from litter K), was no longer with us. Kasimir was sick for a long time (but healthy when he left us). Kasimir had a short but happy life with Kristine and her family. I know that they did all they could for to make Kasimir well again, and for to live a long and happy life. But sadly, this was not to be. I also know that Kristine does miss him a lot. Kasimir will be midded by us and Emelie Hedblom (who did help bringing him into this world), and who was Kasimir and the litter K's "mother". Rest in peace, sweet little prince Kasimir..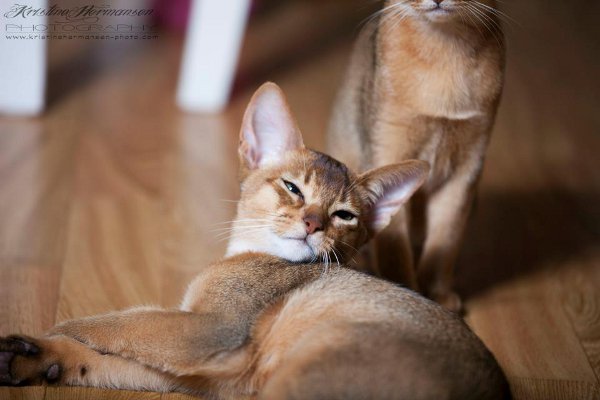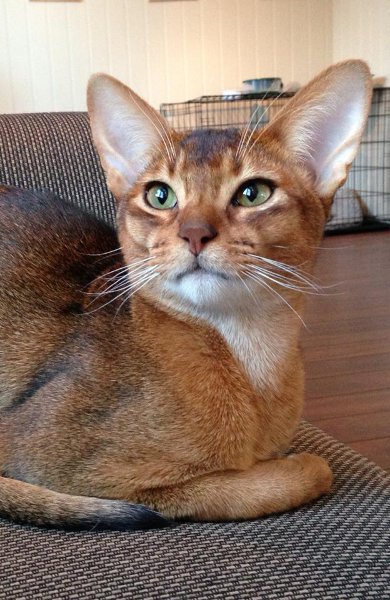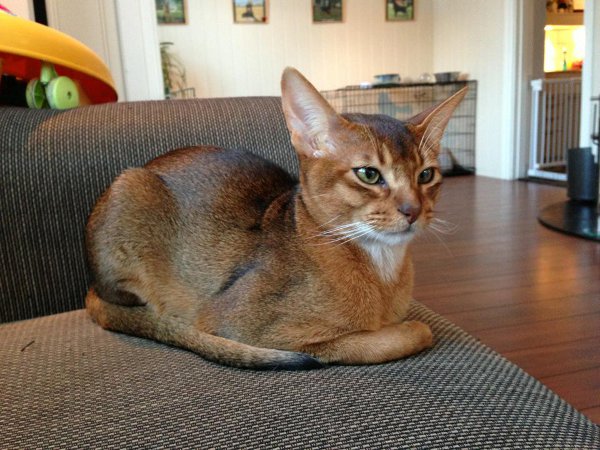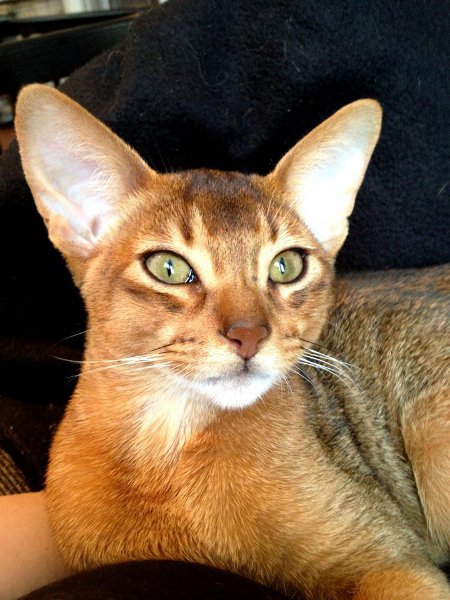 (N) Mayas Pride Finnegan (Sorrel male), born 06.07.2009 - died 10-12.2010

The 20. of November we got a very sad message from Stockholm. (N) Mayas Pride Finnegan was dead. He went missing from his family the 10. of November, and they did find him dead the 12. of November. The autopsy report told us that he probable was killed by a car. This was what I did fear would happen. Have bad experience whit this from before. My experience is that sooner or later this will happen. I do NOT recommend that fertile males runs around free! Finnegan's short life whit his beloved family was full of love from both sides. They loved him and he loved them. Finnegan will forever have a special place in my heart. He was our Neffi's firs born soon (litter F). His birth was a bit special and his 3 first days was real tuff. There's a small comfort though. He became father to his only litter (same day as we got our H- litter). It was only one kitten in that litter, a Sorrel girl by the name Maghreb's Smilla. She was sold and left for New Zealand ca. 18. of November (there she's called Millie). I have been so fortunate to have a good contact whit her new owner Jody. And I will be able to follow her progress from a distance ("my little grand child"). The link to Jody's homepage is: Abyrose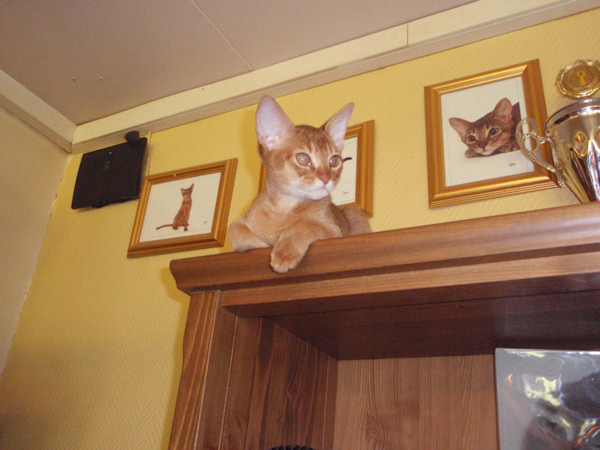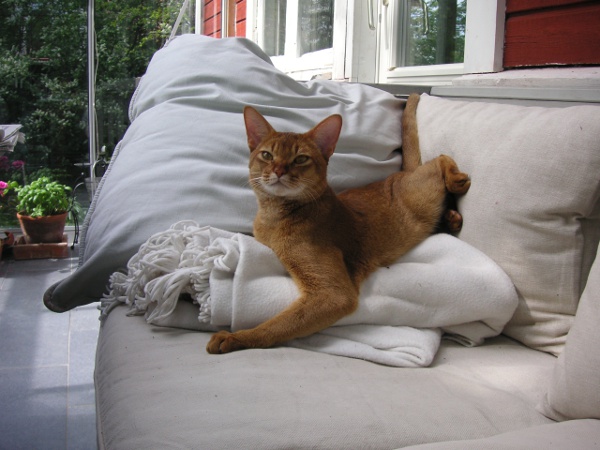 (N) Mayas Pride Felicia (Ruddy female), born 06-07.2009 - dead/missing since 27. of November 2010

The 6. of December. Again, a sad message to get. (N) Mayas Pride Felicia (Finnegan's litter sister), went missing the weekend 27. of November. The family looked for her, put out adds. in the newspaper, but whit no result so far. So now at the end of December, we have tried everything. We have contacted psychic persons and mediums, they say that she's alive and will come back, but I can feel in my heart that, that will not happen. It's winter and to cold outside for her to survive. I think we have to conclude that my Felicia is gone and has left us for ever. For me, she will be remembered as a kitten with a lovely head and beautiful eyes, and she was so incredible kind.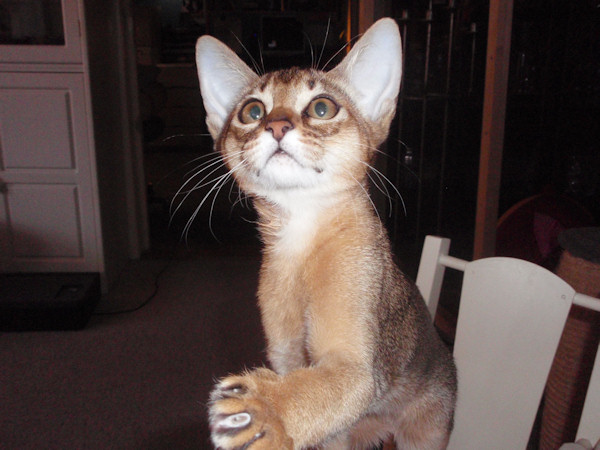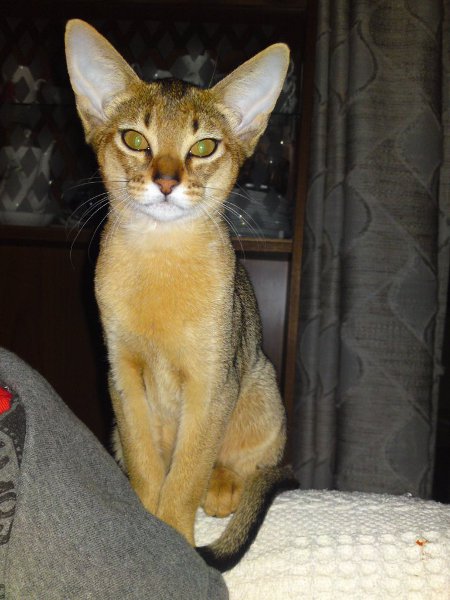 (N) Mayas Pride Nero (Ruddy male), born jan. 24th 2007 - died dec. 31st 2008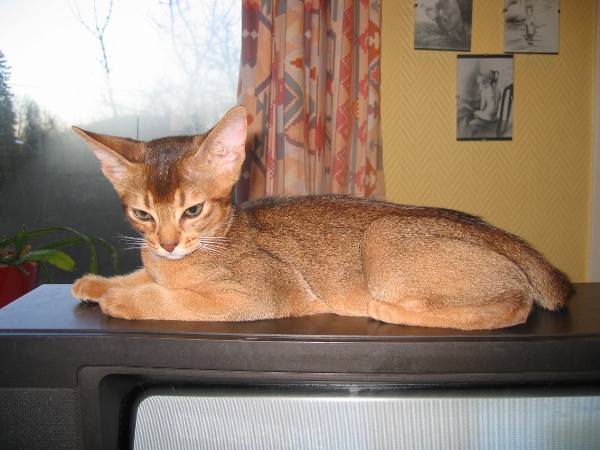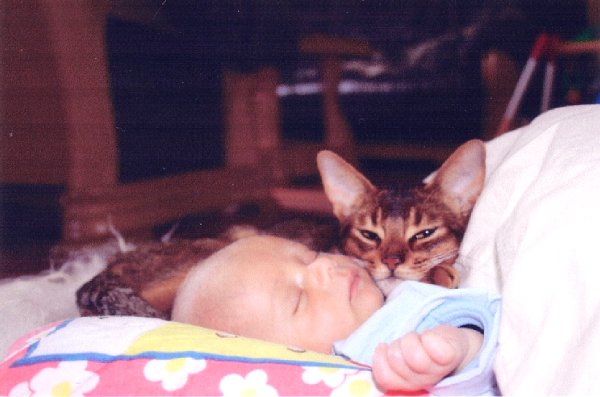 Left picture: Here Nero is 12 weeks. He loved to lay on the TW. Safe and warm there. Right Picture: On this picture Nero is ca. 9 months old. The relationship he had to little Ravn Eirik lasted for the rest of his short life. Were Ravn Eirik was, Nero was. He had to look after his little human friend.

On this New Years Eve, we got every breeders nightmare message from north of Norway (Senja). That our dear, handsome, kind Nero had died. He lived with a great family: mother Mai-Elin, PJ and his best buddy Ravn Eirik (baby boy in the family) and a female Aby with the name Ewa. He had a short but heavenly life. He could run freely and discover the beautiful nature of the north of Norway. He loved the snow and fresh fish for dinner. He became father of 2 litters. His last litter was born after his death. For us who lives down south in Norway, he'll always be remembered as our Neffi/Nefertiti's kind and loving big brother.


IC S*Abydesign Enzo (Blue male) born 10.06.2004 - died 22.09.2008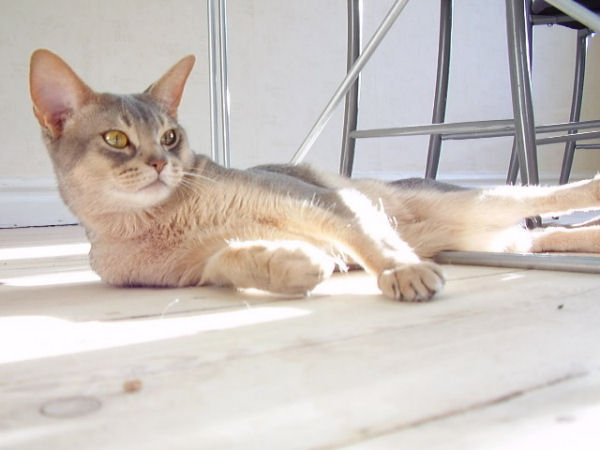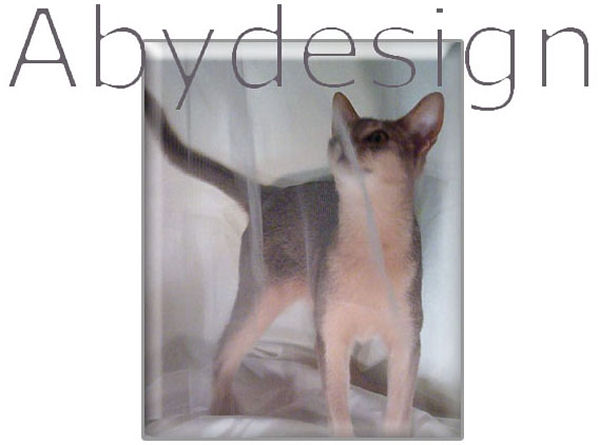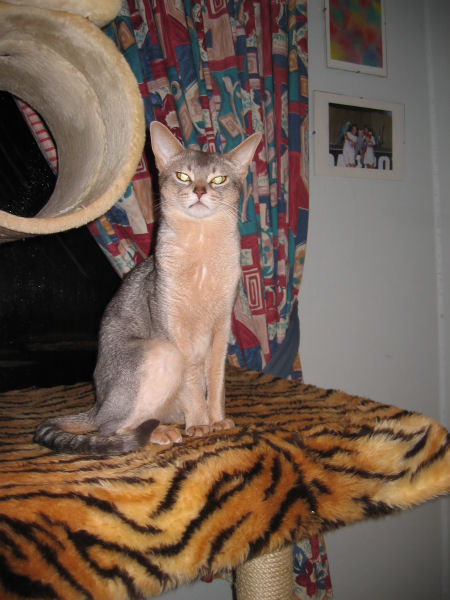 It was with great sadness we got an e-mail from Enzos owner in Sweden that he was dead. I could hardly believe it, that "my" beautiful, gentle, kind and funny Enzo is gone. Here with us, he was THE most perfect male we have had in our house ever. No problem with him at all, for all those weeks he stayed with us. He was decidedly some of the kindest male we have had here. He was kind and gentle towards both us and visitors who came to visit us and say hallo to him. He gave so much of him self and that we can recognize in all of the 5 kittens he fathered with our EC Ingave's Isis. We will always be grateful towards Elin Ahlström for letting us have Enzo as father for 2 beautiful litters. He will forever have a very special place in my heart, as "my" Enzoman.



(N) Mayas Pride Chakira (Ruddy feemale), born 26.07.06 - died 15.07.08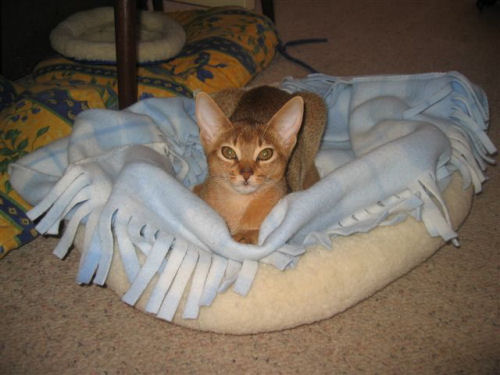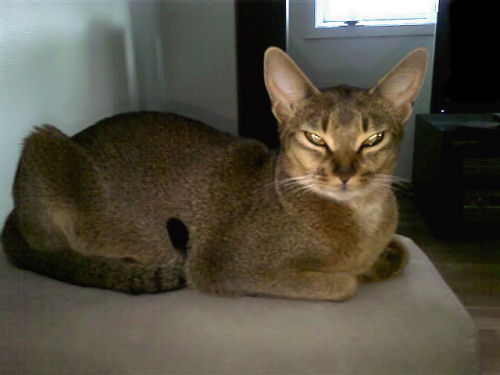 In the picture to the left she is 14 weeks old. In the picture to the rigth she is about a year old.

Our little sweet gentle "Kira" traveled together with her sister Callista to Robert and Heidi who lived in Ålesund. There they was suppose to be house cats and was happy with that. We know that they had a great time there together. This summer they moved to Oslo with Robert and Heidi. But just few days later a great accident happened and they lost their beloved Chakira. We'll always remember her as a real cuddly and nice kitten, but so full of life.



(N) Mayas Pride Amadeuz (Ruddy boy), born 16.06.05 - died 15.08.07.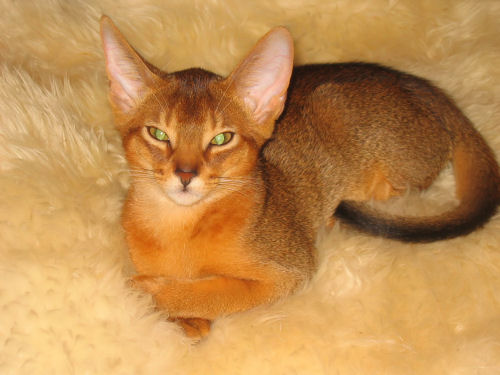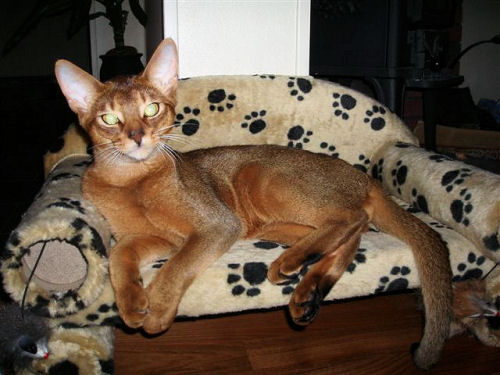 In the picture to the the left he is 13 weeks old. In the picture to the right he has grown a couple of months and was living with Hanne-Marie and Asgeir.

Our little "Dussen" was so lucky to come to Hanne-Marie and Asgeir in Kristiansund. He soon got a suuuper play pall with the name Ton-Ton (domestic cat). And it even came a miniature dog in the family. They all had a lot of fun together and loved each other all 3 of them. Hanne-Marie and Asgeir just loved Amadeuz enormously. We all had great expectations for him, and he turned out to for fill them all and much more. He'll be remembered as a nice, handsome and funny kitten.



include"outro.php" ?>